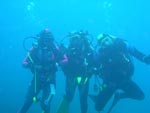 SORRENTO DIVING - SORRENTO
...with us...
To go down through the bubble..and learn to breath under water!! To go on with your diving life..It'll be fun!!
To Know, love and respect the sea and its inhabitants within the Marine Protected Area of Punta Campanella in Sorrento Coast. We are in Sorrento, a small village in Sorrento Peninsula. We work in the Marine Protected Area between Sorrento Peninsula, Amalfi Coast and Capri Island.