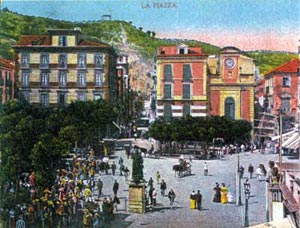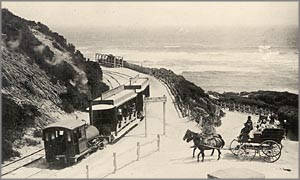 The legends indicate a close connexion between Lipara and Surrentum, as though the latter had been a colony of the former; and even through the Imperial period Surrentum remained largely Greek. The oldest ruins are Oscan, dating from about 600 BCE. Before the Roman supremacy, Surrentum was one of the towns subject to Nuceria, and shared its fortunes up to the Social War; it seems to have joined in the revolt of 90 BCE like Stabiae; and was reduced to obedience in the following year, when it seems to have received a colony.
The most important temples of Surrentum were those of Athena and of the Sirens (the latter the only one in the Greek world in historic times); the former gave its name to the promontory. In antiquity Surrentum was famous for its wine (oranges and lemons which are now so much cultivated there not having been introduced into Italy in antiquity), its fish, and its red Campanian vases; the discovery of coins of Massilia, Gaul and the Balearic Islands here indicates the extensive trade which it carried on.
The position of Surrentum was very secure, protected by deep gorges. The only exception to its natural protection was 300 yards on the south-west where it was defended by walls, the line of which is necessarily followed by those of the modern town. The arrangement of the modern streets preserves that of the ancient town, and the disposition of the walled paths which divide the plain to the east seems to date in like manner from Roman times.
Torna a Surriento song
It may seem strange to many, but this song is dedicated to a man. Here are the facts: In September of 1902, the Prime Minister, Giuseppe Zanardelli made an official visit to Sorrento. He took an apartment where Giambattista De Curtis used to work as a fresco painter.
In those times the conditions of Sorrento were catastrophic. Streets not connected, houses dilapidated and services were non-existent. To encourage the Prime Minister to do something as soon as possible, the De Curtises (Giambattista and Ernesto) dedicated this song to him. It was written in a few hours but has been modified slightly to the present version. They were urging him to return and enjoy the beauty of Sorrento after the hopefully coming reconstruction.